by Rustic Escentuals
This tutorial will show you how easy it is to work with a unique Rebatch Soap Base that is easily customized. The bars will have a more rustic looking texture to them than Melt and Pour soap. This unique soap base allows users to make cold process soap (CP) without the need to handle lye while still offering options for creativity.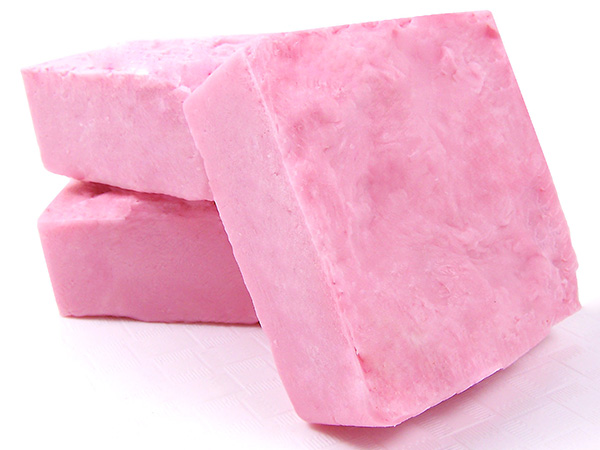 Supplies and equipment needed:
Crock Pot or double boiler
Large spoon for stirring soap
Rubber gloves
Cheese grater
Disposable pipette
0.15cc scoop
1 lb. Rebatch Soap Base
Oh La La Mica Colorant for soap
Soap Fragrance Oil
Basic Square Soap Mold

Step 1
Weigh out a 1 pound block of Rebatch Soap Base (or amount of your choice).
Step 2
Using a cheese grater, grate up the base for melting. Grating is preferred because the small pieces melt much easier and will give you a much smoother consistency. The base is soft so grating will go quickly.

Step 3
Place the grated base in a crock pot or double boiler. Make sure the soap is covered so it doesn't lose any moisture content.
Note: A microwave is not recommended because the base bubbles up quickly. You will get a much nicer product by gradually melting the base using a crock pot or double boiler.

Step 4
Gradually heat the Rebatch Base until fully melted. Heat for approximately 40 minutes on medium heat. Time may vary depending on how much base you're working with. With a large spoon, stir every 5 minutes. Don't leave the soap unattended while melting! Once melted, the base will be a thick, smooth liquid. It is not necessary to add any additional water to the base when melting.

Step 5
When completely melted, the soap will be ready to add additives such as fragrance oils, colorants, or additional vegetable oils. Turn off the crock pot (or remove the double boiler from the heat source). Work quickly to prevent the base from cooling and hardening.
Note: The more water and oils you add to base, the softer the finished soap will be and it will take the final soap longer to set, harden, and cure.
Step 6
Add no more than 3% of fragrance oil to the soap base. For 1 pound of base, 3% is equal to 0.5 ounces of Fragrance oil (If using a disposable pipette, that will be 14.5 mls).

Step 7
Add 4 scoops of Oh La La Mica to the base.

Step 8
Stir well until fully incorporated.

Step 9
One everything is completely mixed, quickly pour or spoon the base into a mold of your choice. The base sets quickly so you need to move fast here. Pound the mold gently on a hard surface to help the soap settle into the mold nicely.
Note: The Rebatch base is much thicker than Melt and Pour soap base so it may not pick up fine elements from detailed molds.

Step 10
When set, remove from mold and leave the bars to dry and harden for two days.