by Rustic Escentuals
To make a unique Valentine's Day gift, I decided to use a similar technique that I used in the Bubble Gum Lip Balm Tutorial. Check out that tutorial if you haven't had a chance! This tutorial will be using a small heart cookie cutter, which can be found at Michael's or Joann's crafting stores.
unique Valentine's Day Gift – heart lip balm tins!

Supplies and Equipment Needed
Spoons
Rubber gloves
Glass measuring cups
Microwave (or electric mini melting pot)
Small Cookie Cutter Heart – 3/4 inch size
Scale
Disposable pipettes
Lip Balm Slider Tins – 0.25 oz
Natural Lip Balm Base
Sugared Strawberries Flavoring Oil
Lip Balm Tint in Rose Blush
Lip Balm Sweetener (optional)
supplies and equipment needed

General flavor oil percentages for lip balms are up to 3% (Multiply your product weight by .03 and the resulting number is the weight of the flavor oil you should add.) I prefer to start with 1% and adjust up, as it is easier to add more than to reduce it.
When using a pipette to dispense your flavor oils into 1 ounce of base:
6 drops of flavor oil = 1%
12 drops of flavor oil = 2%
18 drops of flavor oil = 3%
Prepare your lip balm tins:
Remove the top from the lip balm slider tins and place the small heart cookie cutter down into the center of each tin and set aside. A 3/4 inch size cookie cutter is the perfect size.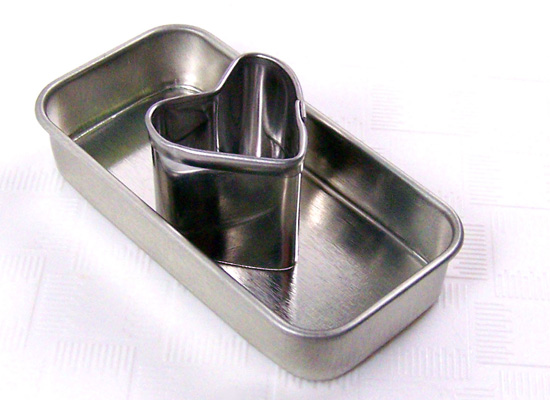 remove top and place the heart cookie cutter into the center of each tin
Prepare your lip balms:
Step 1: Place the glass container on your scale and tare out the container (zero out the scale). Measure out 1 ounce of Natural Lip Balm Base.
tare your empty container (zero out scale with container on it)
scoop out your base
measure out 1 ounce

Step 2: Slowly melt the lip balm base in a microwave for 30 seconds at a time until fully melted. Do not overheat! Slowly stir between each 30 seconds. It took me 2 turns at the microwave to fully melt this amount of balm. Optional: if you have Mini Melting Pot, add the measured lip balm base to this pot instead of the microwave.
slowly melt in microwave (or in your mini melting pot)

Step 3: Add the Sugared Strawberries Flavor Oil to the melted lip balm base using a disposable pipette. Start with 1% and, if necessary, work your way up to 3%. I chose to use 3% in this tutorial.
Remember – for 1 oz of balm:
6 drops = 1%
12 drops = 2%
18 drops = 3%
regarding lip balm flavor, less is more – you can always add more if needed!

Step 4: Using the same process as in Step 3, add the sweetener. I chose to add 2%, however, you can add up to 3% in your lip balm. Stir slowly until fully incorporated. Note: The sweetener may be in a solid state in your bottle – simply warm by placing the uncapped bottle in your microwave for about 20 seconds or placing the bottle in a hot water bath.
TIP: How to test if your lip balm is flavored or sweet enough. Take a clean pipette and drop one or two drops onto your palm and let it set (within seconds). You can then test this small amount on your lips to see if you need to add more flavor oil or sweetener. Do not exceed recommended dosage.
add sweetener, if desired
stir to combine and test flavor/sweetness level

Step 5: Taking a clean pipette, draw up the lip balm base and slowly start filling the lip balm tin being careful not to touch the cookie cutter. Let the lip balm completely cool and harden.
using a clean pipette, fill the tin, being careful not to touch the cookie cutter
once filled, let completely cool and harden
ready to remove the heart

Step 6: It's very important that the balm has completely cooled & hardened before you attempt to remove the cookie cutter or you risk having the balm crack at the edges. When completely hardened, the cookie cutter will come out cleanly. Twist the heart slightly and pull up. If the lip balm is completely set it comes up easily, if not – well you may need to fix up the edges. I actually let these set overnight, but 3 hours should do.
twist the heart slightly..
and pull up
if balm is hardened enough, the heart will come out cleanly

Step 7: When you are ready to fill the center of your lip balms, repeat Steps 1 – 4 using 1 oz. of Natural Lip Balm Base. Melting, flavoring and sweetening should be adjusted according to the amount of base you are working with.
Step 8: Add 2 drops of the Rose Blush Lip Balm Tint and stir completely to incorporate.
prepare the heart portion
ready for filling your hearts!

Step 9: Using a clean pipette, slowly add the tinted lip balm to the center hole. At first it may appear as if you have added enough, but if you look at eye level you'll notice you can add some more drops to the center to make it even with your uncolored balm.
using a clean pipette, fill the heart until level with the uncolored balm

Step 10: Allow to set completely before putting the lid back onto the tin.
let set completely before putting the lid on

TIP: Once set, if you see any gaps between the two colors, you can use a heat gun and quickly swipe it past the lip balm to smooth out the problem. Not too many swipes as you may risk melting the colors together
Now you have an awesome Valentines Day gift idea! Use this technique for all sorts of custom-made seasonal, holiday, and festive lip balms. You'll really be a big hit at birthdays & baby showers! Another suggestion is to combine matching flavors, colors, and miniature cookie cutters.
adorable and unique! A great gift idea!