by Rustic Escentuals
A wonderful Holiday Sampler Pack of Foaming Sugar Scrubs in luscious holiday scents. This is easy to make and super wonderful to use. Makes perfect gifts and also great for craft shows. This tutorial will make approximately 4 sets depending on how full you fill the cups.


Supplies and Equipment Needed
Digital Scale (not shown)
Butter knife or large spoon to cut up the Foaming Bath Butter 
Rubber gloves
Rubber or silicone spatula
Mixer: Whatever you have available
-A stand mixer with a flat beater and a stainless steel whip beater -OR-
-A hand mixer with two stainless steel beaters
Stainless steel bowl
Several spoons
Pipettes
Small bowls or containers to mix each scent and color combination. (5)
Apricot Kernel Oil (2 oz)
2oz Mixing Cups with Lids (15 to 20)
Foaming Bath Butter Base (1 lb)
1 to 1.5 pounds sugar
Body Safe Fragrance Oils
Gel Soap Colorants

Step 1
Take 1 lb. of the Foaming Bath Butter base and place in a mixing bowl. Cut up the base using a butter knife or a large spoon. The smaller pieces make it easier to begin whipping.
NOTE: Normally, the recommendation is to use 2 lbs. of Foaming Bath Butter, however, there is nothing preventing someone from making smaller batches. The more Foaming Bath Butter, the better it whips. However, 1lb works just as fine for a sugar scrub.

Step 2
If using a stand mixer, begin slowly beating the base using a flat beater — this helps to prevent clumping of the base inside the wire beaters. 



Step 3
Adding a carrier oil or butter makes the sugar scrub more moisturizing, but we don't want to make it greasy feeling. Warm 2 ounces of Apricot Kernel Oil in the microwave for 30 seconds and add it to the Foaming Bath Butter.
NOTE: As a rule, it is 2 ounces of carrier oil to 1 pound of Foaming Bath Butter.


Step 4
If working with a stand mixer, switch to a whip beater. Begin whipping the base on low and as it becomes smoother gradually increase to high (about 30 seconds). At the 2-minute mark, stop the mixer and scrape off the sides of the bowl with a rubber or silicone spatula then continue to whip on high for a total of 5-10 minutes. You will notice that it begins to increase in volume. 


Step 5
Continue whipping. Stop when the base doubles in volume. 


Step 6
Now it's time to slowly add sugar. Begin by adding 1 lb of sugar and slowly mix in with the spatula — do not use the mixer at this stage. The trick is to slowly fold the sugar into the whip.

Step 7
Test the mix and decide if more sugar should be added. It is important to make sure the whip becomes supersaturated so that the sugar does not melt.

Step 8
Now that the sugar is mixed in, take a spoon and separate the sugar scrub into 5 containers. Approximately 5 .5 oz to 6 oz each.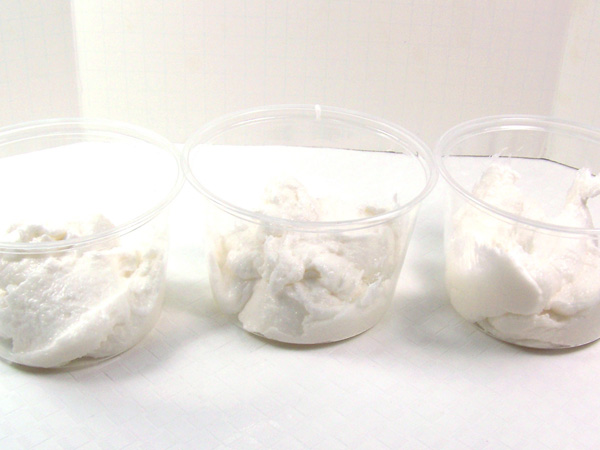 Step 9
Taking one container, add 3 drops of the Magenta soap colorant and mix thoroughly so that the scrub is a solid color.

Step 10
Add 25 ml. of Peppermint Swizzle Stick Fragrance Oil – stir for approximately 1 minute so the fragrance is incorporated thoroughly.
TIP: Here is when a touch more sugar can be added if you decide it needs more. Keep a cup to the side to add in at this stage.

Step 11
Continue with the remaining samples, repeat Steps 9 – 10 until you have mixed up the remaining sets in the following combinations:
• Frosted Winter Berry FO — Dark Purple Gel Colorant
• Christmas Cheer FO — Emerald Green Gel Colorant
• Apple & Pumpkin Strudel FO — Brown (4 drops Orange and 2 drops Bright Blue Gel Colorants)
• Pumpkin Pie Spice FO — Lemon Yellow Colorant

Step 12
Add each scrub combination to 2 oz mixing cups to make sampler size/individual use cups.

Step 13
Add the lids to each container and you're done! Package a mix of 5 together to make a wonderful Holiday Sugar Scrub Sample Pack for a wonderful gift!
This tutorial on how to make soap has been sponsored by Rustic Escentuals. Rustic Escentuals has been offering wholesale candle making supplies, wholesale soap supplies, lip balm ingredients, wholesale fragrance oils, and specialty craft supplies since 1999. Learn how to make candles, how to make soap, how to make lip balm, how to make bath bombs and more at Rustic Escentuals. We hope you shop with us for your wholesale candle supplies and soap making needs. Quality ingredients for a quality finished product!